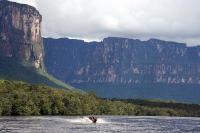 Canaima, right in the middle of the Gran Sabana, is beside a beautiful lagoon formed by the mighty Carrao river. It is also the jumping-off point for trips to the Angel Falls, either in an overflight by small plane or by water on a canoe trip up the Carrao and Churún rivers. The Angel Falls plunge from the summit of the region's largest tepui, Auyán-tepuy (whose surface covers 700 square kilometres).
Our preferred accommodation
Inn/Posada - South flank of Auyán-tepui

A small purpose-built village with warm yellow adobe in a stunning position in the shadow of the towering Auyán-tepui table-top mountain.

Lodge/Hosteria - Canaima lagoon

A small lodge with a palm leaf roof on the shores of the lagoon, with a restaurant and bar.

Lodge/Hosteria - Canaima lagoon

A lovely lodge on the banks of the Canaima lagoon.There are extensive gardens full of tame wildlife (toucan, macaws, various parrots, woodpeckers) and all meals (buffet style) are included, though drinks are extra. The Canaima lagoon, where the Carrao river plunges over a series of falls, is one of the most spectacular sights in Venezuela. Included in your stay is a short canoe trip around the lagoon.