Wetlands abundant with wildlife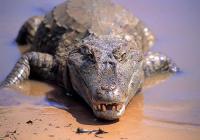 Extending from Bolivia, Peru and Colombia, through 1,000km of Venezuela to the Orinoco Delta, the Llanos (plains) cover an area of about 320,000 square kilometres. In 'winter' (the rainy season) most of the 12 million cattle from the extensive ranches wade in the silt-bearing floodwater by day and sleep on higher banks at night, while in summer the dust and smoke from turtle-hunters' fires obscure the flat horizons, and wildly coloured birds cluster around the remaining pools of water.
The Llanos is a marvellous place to see wildlife. Apart from more than 300 species of birds (including scarlet ibis, hoatzin, screamers, soldier storks, roseate spoonbills and many more) you may be lucky enough to spot jaguars, ocelots, anteaters, honey-bears, capybaras and crocodiles, in an environment still relatively undisturbed by man.
Our preferred accommodation