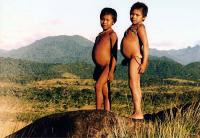 In the south-eastern corner of Venezuela, comprising Bolívar and Amazonas states and covering 45% of the country, lie the Guayana highlands which are part of the pre-Cambrian Guiana Shield, one of the oldest rock formations in the world. The fast-flowing rivers that cross the Gran Sabana, their waters usually dark brown from the high levels of tannin (an excellent insect repellent!), often plunge over rocks full of semi-precious minerals, creating spectacular falls and rapids.
Ciudad Bolívar is an historic colonial centre and one of the first regions in the country to declare independance from the Spanish. It has a beautiful cathedral and pleasant walks along the Orinoco river and is a gateway to the Gran Sabana.
The remote and mighty Caura river, which joins the Orinoco just upstream of the city, is renowned for its spectacular falls and rapids, ideal for a river adventure. It also has amazing biodiversity with plenty of wildlife spotting opportunities.
Our preferred accommodation