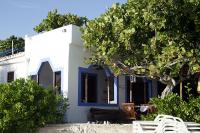 Posada La Gotera
Location
Gran Roque (Los Roques, Venezuela)
Description
A small, friendly posada ideally located just off the central plaza and right on the beach. The Posada Gotera has a young funky feel with bean bags out on the sand and it is right next door to a small bar/café. Inside, there is a small sitting area which looks out over the sea and a small, more formal dining room.
Activities
Snorkelling, diving, fishing, boat trips to the cayes.
Accommodation
There are 5 small rooms, 3 with sea view and two spacious, comfortable suites towards the back of the posada.
Our comments
A good posada in a great position ideal for people (and pelican!) watching which would suit younger couples. The upgrade to the suite is well worth the extra expense.
Client comments and reviews
Los Roques was relaxing and the food was excellent. - JV (September 2008)
La Gotera was perfect for us; we loved the beach location. - VA (March 2008)