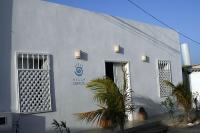 Villa Caracol
Location
Gran Roque (Los Roques, Venezuela)
Description
A stylish, italian owned and run posada several blocks away from the beach towards the lagoon. The communal areas are simple yet tasteful and well designed and lead to a spacious roof top terrace. Service and food are excellent.
Activities
Snorkelling, diving, fishing, boat trips to the cayes.
Accommodation
There are 5 en-suite rooms, each with a ceiling fan though no hot water.
Our comments
An elegant posada with lovely touches and stylish décor.