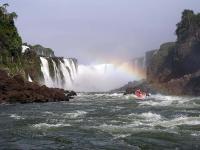 Immortalised by the 1986 film 'The Mission', the majestic Iguassu Falls were made one of the new Seven Wonders of Nature in 2011. The river Iguaçu emerges from forested banks to plunge over a series of cliffs and create a breathtaking spectacle, higher than Niagara and wider than the Victoria Falls.
There are only two hotels next to the falls themselves, and a good network of walkways. An excellent Bird Park houses many exotic bird and butterfly species.
Our preferred accommodation

means that the hotel is one of our Dream Destinations.
Country hotel - Iguassu Falls

A 5-star hotel, with a traditional feel, owned by Belmond (formerly Orient-Express). The hotel is a lovely old colonial-style property inside the National Park and at the edge of the Iguassu falls. There is a large swimming pool, extensive gardens, 2 restaurants, bar, tennis court and spa.

City hotel - Iguassu Falls access road

This is a traditional hotel right next to the national park entrance, and a few steps from the aviaries of the Bird Park. It has a restaurant, and a spa with a sauna, steam room and massage service. There are extensive grounds with nature trails, an attractive pool, tennis courts, a volleyball court and a football field.

City hotel - Foz do Iguaçu outskirts

A modern hotel on the edge of Foz town about 8 miles from the national park entrance. What the hotel lacks in character and style it more than makes up for in location, condition and value. There is a large outdoor pool, restaurant, a small gym, sauna and steam room and a kids club.