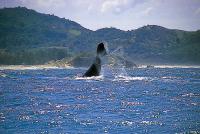 In the state of Santa Catarina there are huge tracts of well-preserved Atlantic rainforest.
Florianópolis is the state capital and is an attractive city on an island linked to the mainland by an elegant suspension bridge. The island has 42 beaches, ranging from quiet coves to areas of roaring surf, and combines the aspects of a hectic capital with the delights of a laid-back fishing village.
From July to early October awesome southern right whales, which reach up to 17 metres in length, come to this beautiful coastline to breed. At Laguna, once capital of Guiseppe Garibaldi's ill-fated separatist republic, fishermen work with dolphins to herd shoals towards their nets. Praia do Rosa, an hour or two south of Florianópolis, is a favoured destination for beach aficionados, and surfers in particular.
Our preferred accommodation