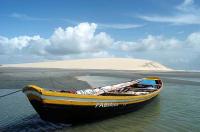 The coast of Brazil's far north eastern state of Ceará is dotted with small, remote, oceanfront fishing villages hidden among rolling sand dunes and palm trees, some of which have now turned to tourism.
Jericoacoara is one such place and with idyllic picture-postcard beaches and a relaxed, friendly and fun atmosphere, 'Jeri' is particularly suited to families and teenagers.
Further east, Fortaleza is a popular modern beach destination for Brazilians with hotels stretching along the crescent shaped beach. The oceanfront promenade is a hive of activity for runners, dog-walkers, rollerbladers, market sellers and is great for people watching.
Our preferred accommodation

means that the hotel is one of our Dream Destinations.
Beach hotel - Jericoacoara

Another 'Blue' hotel, this is an elegant beachfront hotel with a lovely big pool surrounded by private apartments. There is a spa, gym, games room and restaurant right on the beach.

Beach hotel - Jericoacoara

A beautiful, small hotel with just 6 rooms next to a quiet beach a few minutes walk from Jeri's restaurants, shops and bars. There is a spa, a lovely pool overlooking the ocean and a good restaurant.

Beach hotel - Jericoacoara

Positioned on the edge of Jericoacoara town next to the sunset dune, this unusual hotel has a grassy entrance and views either across the dunes or out to sea. It is modern in design and decorated in neutral colours.