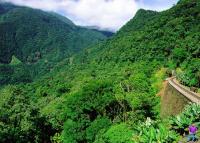 Curitiba is one of Brazil's cleanest cities, with many green spaces and a relaxed, comfortable way of life. One of the most spectacular train journeys in South America departs from Curitiba and cuts through mountains and forests of Brazilian pine before dropping into steamy tropical Atlantic rainforest that shrouds the southern coast of Paraná.
Here you can stay in Morretes, a sleepy colonial village renowned for its barreado, a stew cooked for 24 hours. Nearer the coast is the Superagüi National Park, 34,000 hectares of protected Atlantic rainforest - a picturesque mix of mountains, forests, mangroves and beaches perhaps more biodiverse than the Amazon itself.
Ilha do Mel, once a haven for hippies and surfers now offers a mix of simple pousadas and long, deserted beaches. The island is a perfect destination for hikers, bikers, surfers, nature lovers and anyone who just wants to relax and enjoy the peaceful atmosphere.