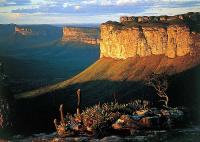 400km inland from Salvador is the Chapada Diamantina national park, a beautiful area of caves, streams and mesas with excellent trekking, all with comfortable country inns on the doorstep in the old colonial mining village of Lençois.
Our preferred accommodation
Inn/Posada - Lençois

A friendly hotel in a good location 5 minutes walk from the town centre. There is a big outdoor pool with a hot tub and hydro massage area, a games room, sauna and library.

Inn/Posada - Lençois

A pretty colonial hotel just across the river from the main town, next to a beautiful waterfall and surrounded by wonderful scenery. There is a big pool and plenty of space to relax after a hard day's hiking.