Wildlife-rich wetlands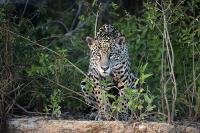 The Pantanal, a huge seasonal wetland bordering Bolivia and Paraguay, attracts 300 bird species (including hyacinth macaws, jabiru storks, ibis, guans, parakeets and parrots), and a wide range of mammals and reptiles, making it a paradise for wildlife.
There are two distinct seasons: in the rainy season (December to March, wettest in February) the region floods and access becomes restricted. The beginning of the dry season (May to August) is probably the best time to see birds, thousands of which nest in the trees, filling the air with their mating calls, while the white sand river beaches are exposed for caimans to bask in the sun. Capybaras are everywhere, and with luck one can see marsh deer, giant river otters, and even the elusive tapir and jaguar.
Whilst not strictly part of the Pantanal, it is worth mentioning here the Chapada dos Guimarães, an outcrop of table-top mountains and waterfalls visited by Colonel Fawcett and one of the several possible sources for Conan Doyle's 'Lost World' fable.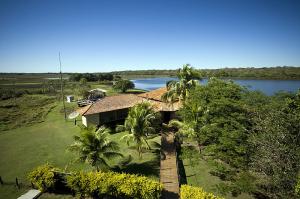 The best way to see the Pantanal is to stay on a fazenda (farm), several of which have built comfortable lodges with knowledgeable local guides.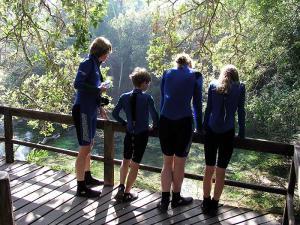 In the southern Pantanal is the small town of Bonito. Tourism was first developed here when settlers and residents realised the attraction of the caves and crystal-clear rivers. You can snorkel with massive dourado, float down rivers and over small waterfalls, or admire stalactites in limestone caves.