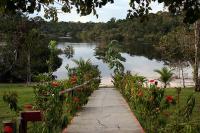 Amazon Ecopark Jungle Lodge
Location
20 minutes north of Manaus by boat (Amazon lodges and cruises, Brazil)
Description
Spread out on the banks of a stream in 3,000 hectares of forest reserve. In the grounds are an aquarium, an orquidarium, a black water swimming pool with cascades, a hammock area and a games room.
Activities
The meeting of the waters. They have a sea plane. Jungle walks leave from the hotel. Opposite the hotel is a monkey rehabilitation centre, where at least 8 species can be seen (they are sent orphans and domesticated animals from all over the Amazon and more than 500 have been released into the wild). They are fed daily, and guests can watch.
Accommodation
60 rooms with capacity for 130 guests are spread through secondary forest in separate units each containing 3 rooms. Rooms have air conditioning, electric showers.
Our comments
A friendly lodge with easy access (so no overnights in Manaus are necessary). Plane noise occasionally annoying.