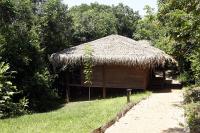 Anavilhanas Jungle Lodge
Location
Anavilhanas archipelago (Amazon lodges and cruises, Brazil)
Description
A small lodge, around 3 hours north-west of Manaus by road. The lodge sits on the banks of the Rio Negro opposite the Anavilhanas archipelago (400 islands) and is surrounded by rivers and lush Amazon jungle. The main dining area serves buffet meals with a large variety of local fruits. There is a swimming pool with a view over the river.
Activities
Jungle walks, wildlife spotting, piranha fishing, canoeing, visits to local villages.
Accommodation
22 comfortable cottages, bungalows and panoramic bungalows are built on suspended wooden structures. All have air conditioning, cable TV, beds, hot and cold shower, mini-bar and a private veranda hammock.
Our comments
The trip to see the pink dolphins, which have been visiting the nearby village of Novo Airão for years, is memorable. Very few biting insects (due to the acidic waters of the Rio Negro), and as a result less wildlife than some other forests.
When to go
Any time. The dry season is from September to December.
Client comments and reviews
Anavilhanas was absolutely brilliant, staff falling over themselves to help, a friendly mix of other guests, excellent food, beautiful scenery and a good programme of activities. I don't know if it was a good idea to swim in the river, but we all did on the suggestion of the staff and it was lovely!! You can't swim with the dolphins any more, as some of the wild ones which occasionally accompany the rescue ones can be aggressive, but that didn't matter because we saw some while we were swimming in the river anyway. The hotel had the foresight to realise there could be a problem with the reliability of the return ferry crossing at Manaus and arranged a motor launch with taxi at the other end if we needed it, and we did, so there was no problem with the flight. So, although it was a long journey to get there, the Amazon was the part of the holiday that we all enjoyed the most. I would recommend it to anyone of any age. - CS (July 2011)