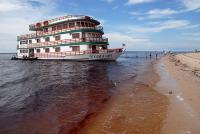 Clipper cruises
Location
Cruises from Manaus (Amazon lodges and cruises, Brazil)
Description
A comfortable and custom-built riverboat with an observation/sun deck, with a fantastic 360° panoramic view. The boat is small enough to dock at remote spots and cruise to hidden locations due to the shallow draft of only three feet. They offer two, three or five night packages on various boats all operating pretty much the same itinerary
Activities
Excursions include caiman spotting, jungle walks, piranha fishing, native dwellers. 2 night trips: Meeting of the waters, Solimoes river, flood plain, operate Monday-Wednesday. 3 night trip: mainly Rio Negro and Anavilhanas arquipelago, Novo Airão (boat-builders), operates Wednesday-Saturday. 5 night trip combines the two and operates Monday-Saturday.
Accommodation
The Amazon Clipper, Selly Clipper II, and Amazon Angler are the three original boats, each with eight air-conditioned cabins (with bunks) and a private bathroom with shower. There is a covered dining room, bar and library and also a sun deck and viewing area. The Clipper Premium is a custom-built boat with 16 spacious, air-conditioned cabins, lower berths and a private bathroom with hot/cold water. There is also a spacious observation deck, an air-conditioned dining room, a lecture/presentation room, library and bar.
Our comments
A well run operation that is perfect for those wanting to get plenty of variety in a short visit.
Client comments and reviews
The Clipper Premium boat trip was excellent. The accommodation was probably better than we were expecting and the crew and guides were very good. It was amazing to see the vastness of the Amazon River complex and to see the way of life on the rivers. Swimming in the warm River Negro, despite the piranhas and caimans was something we never thought we would do. There was not a huge amount of wildlife to be seen but we were aware of that and was not the main reason we went. - B&JJ (January 2010)
Amazon River Cruise (2 nights)
Day 1: Manaus, Amazon River
Day 2: Janauaca Lake, Amazon River
Day 3: Janauary Ecological Park, Meeting of the Waters, Manaus
Negro River Cruise (3 nights)
Day 1: Manaus, Rio Negro
Day 2: Rio Negro, Anavilhanas National Park
Day 3: Rio Negro, piranha fishing, pink dolphin spotting
Day 4: Amazon River, Lago Janauary Ecological Park, Meeting of the Waters, Manaus
Amazon & Negro River Cruise (5 nights)
Day 1: Manaus, Amazon River
Day 2: Janauaca Ecological Park, piranha fishing, pink dolphin spotting
Day 3: Igapó, Meeting of the Waters, Rio Negro
Day 4: Anavilhana National Park
Day 5: Natives Community, pink dolphin spotting, Amazon River
Day 6: Lago Janauary Ecological Park, Meeting of the Waters, Manaus