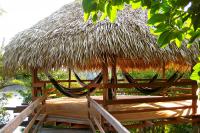 Juma Lodge
Location
4 hours south-east of Manaus (Amazon lodges and cruises, Brazil)
Description
Built on stilts using traditional methods, this lodge overlooks the still waters of the Juma river, 100km south of Manaus. A feature of this area is the igapó (flooded forest), where the enormous seasonal difference in water levels (up to 15 metres) means that at times one can be floating through the forest canopy itself.
Activities
Jungle walks, wildlife spotting, piranha fishing, canoeing, visits to local villages.
Accommodation
23 thatched cabins (with ceiling fans and private bathrooms with hot showers) are dotted through the forest and linked to a communal restaurant. The lake view (superior) rooms are built on stilts, in a secluded part of the forest, and all have lovely views.
Client comments and reviews
The location and setting of Juma was great, as was having our own view onto the lake. The cabin was comfortable and the food was good. The various excursions gave a very good insight into life in the Amazon and it was interesting just to see the extent of the wetlands, but for us it lacked the excitement of finding animals and observing birds. For some trips there was a long journey to the start points, particularly one long journey to walk for five minutes to see an old tree (albeit 400 years old). - DB (September 2019)
We enjoyed our time at Juma in the Amazon, although it was not quite what we expected. The wildlife was modest and not memorable, as the jungle was so dense that viewing was virtually non existant. Having said the staff and guide couldn't have been more helpful and the scale of the Amazon was magnificent. Perhaps we are spoiled by our African experiences over 30 years. - NC (February 2017)
Juma lodge is fantastic - really great, magical and different. I would suggest a minimum of three nights there to anyone. Although everyone says you need long sleeves/trousers you only need one pair, you need shorts and t-shirts and swimming stuff for more of the time. - JH (August 2016)
Juma was fantastic, the excursions, guides and lodge were all great. We'd definitely recommend it. - JH (June 2013)