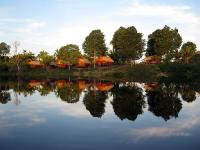 Turtle Lodge
Location
Approximately 4 hours south-east of Manaus (Amazon lodges and cruises, Brazil)
Description
The lodge is set in primary rainforest and due to the distance from Manaus the pressures on the jungle are few. The guides are native to the Mamori river area and have an infinite knowledge of the jungle (nearly all speak English).
Activities
Various excursions are arranged each day into the primary rain forest including jungle treks, jungle survival tips, visiting a caboclo dwelling or evening alligator spotting.
Accommodation
Turtle Lodge has 16 rooms and a main building where meals are served and there is a bar. The rooms are simple and rustic but comfortable and all have private bathroom facilities and air conditioning.
Client comments and reviews
We had a fantastic time in the jungle. Wonderful guides, marvellous flora and fauna. The people at Turtle Lodge were great. A real highlight for us all was the Amazon, just everything (caiman, sloths, amazing birds, monkeys, spiders, frogs, piranhas, trees, flowers, etc. etc. etc). Our guides and all staff at the lodge were extremely interesting, helpful, kind and fun to be with. - LVF (July 2023)
We had such fun at Turtle Lodge, especially the kids! And less creepy-crawlies than expected... The food ws also a real surprise. - PM (August 2018)
The Turtle Lodge is good, well organised, good food, clean and friendly. Main problem is to dry your clothes, I was really lucky to have no rain. When I was there I was virtually on my own, so I had my own dedicated tour guide (excellent!) and could go at my own pace. - JC (May 2012)
The Amazon trip was really great, The 'Maia expeditions' group were really brilliant, hitting the right mix between authentic experience (read pretty basic) but feeling to be in very knowledgable/safe hands and well looked after. The last 3 days spent in the jungle, just the 2 of us and 2 guides was quite spectacular, sleeping in hammocks, fishing daily for meals and canoeing silently up narrow canals tracking wildlife (not easy but we did see one large group of Monk Saki monkeys plus amazing birds/butterflies.... and spiders!). It was exactly what we had hoped for. - RW (August 2009)
The Amazon was incredible, we were the only two staying at the lodge! The guide (Mo) was so knowledgeable and friendly and the trips that he took us on just blew us away. The lodge itself was beautiful and the Amazon was just so far removed from anything we had seen before. - RW (April 2009)
The highlight of the trip for both of us was definitely Dolphin Lodge. Our guide there was great and the food was very good as well. - CT (December 2008)
We all enjoyed the time in the Amazon the best and the fact that it was all very basic added to the experience. - RJ (August 2008)