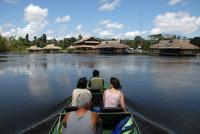 Uakari Lodge
Location
1 hour flight west of Manaus to Tefé (Amazon lodges and cruises, Brazil)
Description
Uakari Lodge is a 90 minute boat ride from Tefé, at the confluence of the Japurá and Solimões Rivers, engulfed by the pristine wilderness of the Mamirauá reserve and the largest area of floodplain on the planet. The lodge (named after the rare white uakari monkey, endemic to the area), on a remote tributary, is built of local wood and thatch with a restaurant, bar and library and is designed to float with the rise and fall of the water levels. With a focus on conservation and sustainability, all energy is solar powered, waste water is treated before being returned to the river, and most of the staff are from the local riverine communities. Built for research as well as tourism, on-going research projects are based here.
Activities
Canoe trips to explore the flooded forest (by day and night), boat trips to Mamirauá Lake, visits to the local communities to meet the people and see their micro-enterprises and projects. Jungle walks are available in the dry season (September to March); during the wet season, the whole area is flooded for 3 to 4 months, so guests can canoe through the forest instead of walking.

Special interest programs are also available, such as private bird-watching tours, photography journeys, and a jaguar expedition (to assist the researchers and learn about the jaguars, who live in the tree tops when the forest is flooded).
Accommodation
10 rooms (connected to the rest of the lodge by a series of walkways) are all basic but spacious with private bathroom, veranda, hot water showers and ceiling fans.
Our comments
Bruce Parry visited this region staying with local communities and experienced life as a ribeirinho!