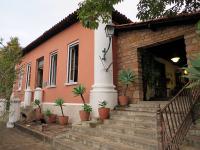 Hotel Lençois
Location
Lençois (Chapada Diamantina, Brazil)
Description
A friendly hotel in a good location 5 minutes walk from the town centre. There is a big outdoor pool with a hot tub and hydro massage area, a games room, sauna and library.
Activities
Walking, hiking and exploring the waterfalls, rock formations, caves and majestic table-top plateaux.
Accommodation
Around 50 rooms in the main hotel, with simpler rooms in a separate building.
Our comments
A good option to base yourself for exploring the Chapada Diamantina National Park.