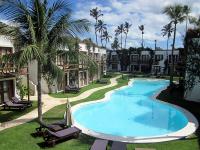 Blue Residence
Location
Jericoacoara (Jericoacoara to Fortaleza, Brazil)
Description
Another 'Blue' hotel, this is an elegant beachfront hotel with a lovely big pool surrounded by private apartments. There is a spa, gym, games room and restaurant right on the beach.
Activities
Relax on the beach or by the pool, walk to Pedra Fura, ride a horse or quadbike along the beach or drive a buggy over the dunes. Jeri is also well-known for water sports, in particular kite surfing and windsurfing with many instructors offering lessons.
Accommodation
Modern, spacious and comfortable apartments on 2 floors with their own kitchen facilities.
Our comments
A really good option for families and those wanting a bit more privacy and space.