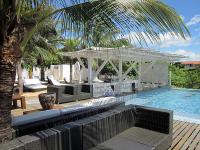 Chili Beach Hotel
Location
Jericoacoara (Jericoacoara to Fortaleza, Brazil)
Description
A beautiful, small hotel with just 6 rooms next to a quiet beach a few minutes walk from Jeri's restaurants, shops and bars. There is a spa, a lovely pool overlooking the ocean and a good restaurant.
Activities
Relaxing by the beach and absorbing the laid-back atmosphere of the village, dune buggy trips to nearby lagoons, kite surfing, wind surfing, or ride or walk 3km along the coast to the Pedra Furada rock.
Accommodation
4 spacious rooms and 2 bungalows, all tastefully decorated in cool whites and with plenty of private outdoor areas to relax and unwind.
Our comments
Perfect for honeymooners and couples, this enchanting hotel has the advantage of being close to town, yet secluded and tranquil.