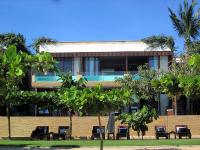 Essenza Hotel
Location
Jericoacoara (Jericoacoara to Fortaleza, Brazil)
Description
The newest addition to the 'Blue' group of hotels and the most luxurious. Essenza is an exclusive, sophisticated hotel with an emphasis on relaxation and attention to detail. There is a large glass-sided pool, hot tub, spa and private beachfront restaurant.
Activities
Relax on the beach or by the pool, walk to Pedra Furada, ride a horse or quadbike along the beach or drive a buggy over the dunes. Jeri is also well-known for water sports, in particular kite surfing and windsurfing with many instructors offering lessons.
Accommodation
All rooms are oceanfront, comfortable and stylishly deorated with all modern facilities. First floor rooms have private pools, and ground floor rooms have private terraces over the main pool.
Our comments
Definitely the most luxurious option in Jericoacoara, with stunning views and a great location opposite the 'sunset sand dune'.