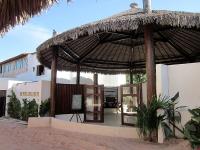 My Blue Hotel
Location
Jericoacoara (Jericoacoara to Fortaleza, Brazil)
Description
A stylish, contemporary hotel on two floors with pool, sauna, gym and spa. The restaurant is directly on the beach under the shade of palm trees and serves good Italian food.

This hotel was previously called Mosquito Blue.
Activities
Relaxing and absorbing the laid-back atmosphere of the village, dune buggy trips to nearby lagoons, kite surfing or wind surfing, or ride or walk 3km along the coast to the Pedra Furada rock.
Accommodation
Rooms are modern, cool and comfortable. All ground floor rooms open to the garden, deluxe rooms (on the first floor) have a small balcony, and there is one master suite with ocean view right next to the restaurant.
Our comments
Perfect location.
Client comments and reviews
Jeri was fantastic, so laid back and easy-going, and Mosquito Blue was perfect, just what we needed after that long journey. We spent most days relaxing by the pool as we'd had such a hectic couple of weeks. One day we took a tour to the dunes and lagoons which we really enjoyed. - SW (July 2008)
We had a brilliant time and as per usual were incredibly reluctant to come home and could have easily stayed in Jeri forever!! We really loved it there and I think it was our favourite place! - HH (September 2005)