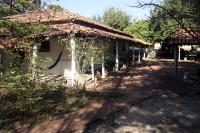 Ilha do Cajú
Location
Ilha do Cajú (Lencois Maranhenses and the colonial ports, Brazil)
Description
The island lodging is no longer operating so access is effectively not possible
The Ilha do Cajú is a privately-owned 10,000 hectare island and reserve in the delta of the Parnaíba river and the small hotel is on the original hacienda in the centre of the island. Electricity comes from a generator. Restaurant. There are five ecosystems (including unusually tall mangroves on the brackish island borders).
Activities
There is a research station on the east coast, where skeletons of several large whales are on show, and also an observation platform with good views. To get there one crosses a small area of marshland rather reminiscent of the pantanal, with some interesting wildlife. Scarlet ibis (guarás) nest on or just adjacent to the island and can be visited at dusk all year round, a wonderful sight. All tours are at extra cost.
Accommodation
Rooms are either in rustic thatched chalets or in the old cowman's house (Casa do Vaqueiro). All have private bathrooms and floor fans.
Our comments
Very friendly, although no English spoken.