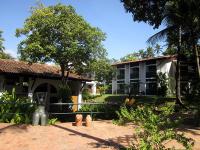 Sete Colinas
Location
Olinda (Natal, Recife and surrounds, Brazil)
Description
A simple but comfortable option in Olinda with large gardens and a lovely pool. There is also a small museum in the grounds, part of the old original colonial house.
Activities
The San Francisco Convent is just a few metres up the road, and the colonial centre easy to explore on foot.
Accommodation
There are around 50 rooms including some larger suites.
Our comments
This is a good option for those wanting to explore Olinda, but also wanting some time to relax by the pool (as other hotels in Olinda have only very small pools).