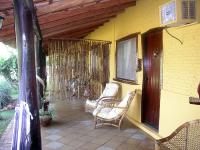 Araras Eco Lodge
Location
Northern Pantanal (Pantanal lodges, Brazil)
Description
On the Transpantaneira road 90 minutes south from CuiabŠ, this lodge has been established for a number of years and is very well set up for wildlife viewing. The bilingual guides are very knowledgable and the accommodation is comfortable. It can be accessed by road all year round.
Activities
You do not have to stir far from your room to see capybara, giant river otters, hyacinth macaws and a myriad of birds. A short walk takes you through the swamp and forest to an observation tower which gives beautiful views over the surrounding countryside. Monkeys abound there and if you are lucky you will make friends with a family of howlers! Excursions by horse, boat and truck go out several times a day from the lodge.
Accommodation
There is a small pool with sun-loungers for relaxing, and each room has an outside terrace with hammock and easy chair. There is a communal dining room and the food is good. Afternoon tea with cake is served in the garden every day. The main lodge is rustic in style and has 19 rooms, while there is more basic accommodation for serious bird watchers 30 minutes away, further into the forest.
Our comments
Easy access makes this an attractive destination in the northern Pantanal and the wildlife is wonderful and very accessible.
Client comments and reviews
Araras Lodge was the star of our holiday, it really was lovely and well run. - JN (July 2010)
We loved Araras Eco lodge, our three night stay was perfect and we did lots of excursions. Our guide Guliano was so knowledgable and even took us out on our own at 5am to see birds, in addition to the general tours for the other guests. We were lucky enough to see an ocelot on a night ride and a herd of water buffalo at dusk by the viewing tower. We saw capuchin and howler monkeys feeding which was amazing, and the canoe and riding trips were great fun. The food was excellent and there was plenty of it. This area is so unspoilt, we hope it continues in its pristine state for years to come. - CP (May 2008)