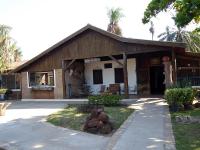 Pousada Aguapé Lodge
Location
Southern Pantanal (Pantanal lodges, Brazil)
Description
Pousada Aguapé is on Fazenda São José, a 2,000 hectare working farm on the southern edge of the Pantanal, which has been owned by the same family for over 150 years, and is within easy access by road from either Campo Grande (195km) or Aquidauana (60km). There is a lovely open sided dining area and bar, an outdoor swimming pool and hammocks in the shade to relax during the heat of the day. Inside the main house there is a communal sitting room with a television and also a small shop.
Activities
The area is rich in bird and wildlife and a good range of excursions are offered/included on a shared basis (usually two each day). These include riding, guided walks, boat trips on the Aquidauana river (a 5 minute walk from lodge), canoeing on the river, safaris in open sided 4x4 vehicles, night drives and fishing (for dorado and pintado). 1,800 cattle are farmed here and guests are also given the opportunity to help milk a cow at 4am.
Accommodation
The 15 rooms are divided between small accommodation houses within the gardens and are simple, but comfortable with tiled floors, a private bathroom, air-conditioning and a ceiling fan.
When to go
Open all year except Christmas. Would be very hot December to February.
Client comments and reviews
The manager was the only person that spoke any English and so it was important for us to have our own guide on the shared excursions. The birdlife around the lodge was excellent and we also saw wonderful giant anteaters on a couple of early morning excursions but, although a range of activities are offered, there appeared to be no/little choice or flexibility, and the excursions all felt quite regimented. Your name is written on a board each day with your allocated excursions, times of departure and name of guide - usually 2 per day with each only being 2 hours long. We were happy to do as much as possible but it would have been nice if our interests had been discussed. - SM (October 2019)
We absolutely loved Aguape and saw more animals there than we did during our full time at Rio Mutum. Both areas are great and very different and I would advise serious wildlife enthusiasts to experience both the north and the south if possible.

- KL (August 2012)