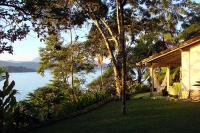 Casa do Pescador
Location
Close to Paraty (Paraty, Brazil)
Description
On a beautiful island with amazing views of the sea, this restored fisherman's cottage is close to Paraty. The island itself has nature trails to nearby beaches and a private dock for swimming in the sea.
Accommodation
2 bedrooms with panoramic views.
Our comments
The cottage comes with daily maid service. Pre-stocking of the house with groceries is recommended. Concierge service is included on your day of arrival but at extra cost if required during the rest of your stay.