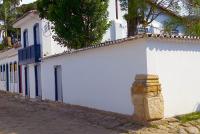 Casa Paraty
Location
Paraty (Paraty, Brazil)
Description
A charming three storey house in central Paraty with a white-washed, colonial exterior and spacious well-designed interior. The walled garden is completely private and includes a swimming pool and barbecue area.
Activities
The casa has its own schooner (which is available for hire locally) to explore the islands. There is a local Brazilian cooking school and snorkelling, diving, surfing and kayaking can all be arranged locally.
Accommodation
There is a master suite and twin bedded room (both en suite) on the first floor with an attic bedroom on the second floor. Overall Casa Paraty can sleep up to eight people.
Our comments
The casa is fully staffed from 0800-1700 with two maids and a cook. A concierge who speaks English is available for 4 hours a day as well.
No children under 5. Babysitters and additional maids can be arranged locally at extra cost.