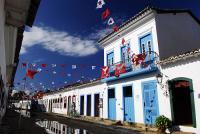 Casa Turquesa
Location
Paraty (Paraty, Brazil)
Description
This eighteenth-century town house was sadly destroyed by fire in the twentieth century, but has since been carefully restored into a beautiful pousada. The original colonial architecture is still present throughout the property, but the owners have also included a number of contemporary features, including a swimming pool, hot tub, bar and wine cellar.
Activities
A number of Paraty's attractions are within walking distance, including the church of Santa Rita, the oldest religious building in the town.
Accommodation
There are just nine guest rooms, all individually and tastefully decorated. All rooms are en-suite and have air-conditioning, and some have balconies.
Client comments and reviews
Paraty is a lovely town with so much character, great art and eating. The Casa Turquesa was quite remarkable, we had a stunning room with sensational interior design, very friendly and helpful service and it was an excellent end to our holiday in Brazil. - NC (February 2017)