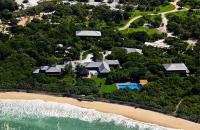 Tutabel
Location
6km south of Trancoso (Porto Seguro, Trancoso and Arraial d'Ajuda, Brazil)
Description
On a beautiful beach close to Itapororoca and 6km south of Trancoso, this stunning hotel was once the holiday home of TV mogul Roberto Marinho. There is a lovely pool, a spa, sauna, and gym and restaurant. The property is spread amongst extensive gardens, but what sets Tutabel apart is its privileged position right on a deserted beach, making it perfect for couples or families.
Activities
Relaxing on the beach; five trails for walks or bike rides; kayaking tours.
Accommodation
There are eight rooms in three categories, according to size and view. The Tutabel suite has a private balcony and panoramic views of the beach and ocean.