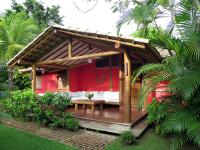 Villas de Trancoso
Location
Trancoso (Porto Seguro, Trancoso and Arraial d'Ajuda, Brazil)
Description
A beautiful, luxurious, contemporary hotel with its own private stretch of beach around 2km from Trancoso. There is a large pool, open air bar and resturant, spa, games room, beach bar and outdoor exercise area.
Activities
There are a myriad of activities in and around the hotel including horseback riding on the beach, kayaking, kitesurfing, golf, yoga, the list goes on. It is also the perfect place to relax by the pool and ocean.
Accommodation
Just 10 rooms spread throughout the manicured grounds in suites and private bungalows. All are exquisitely decorated in whites with tasteful local and international artistic touches and solid wooden furniture.
Our comments
The epitome of unpretentious luxury, you will never want to leave!