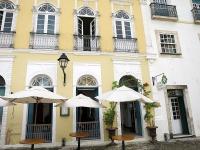 Villa Bahia
Location
Salvador (Salvador, Brazil)
Description
An immaculate hotel full of character at the heart of the Pelourinho and themed on the Portuguese spice route. French owned and run, it is charmingly decorated in a colonial style. There is a plunge pool, small breakfast room and an excellent restaurant open to the public.
Accommodation
There are around 20 rooms each named after a former Portuguese colony.
Our comments
Charming and stylish in a prime position at the heart of the Pelourinho.
Client comments and reviews
Villa Bahia wins the prize for the best hotel of the holiday! It was excellent and so quirky, but the room was huge and we looked down on the square. - SH (June 2022)
We loved Villa Bahia. The pousada was terrific and we really enjoyed old town Salvador - VB (April 2018)