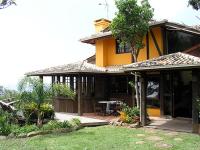 Caminho do Rei
Location
Praia do Rosa (Florianopolis and the southern coasts, Brazil)
Description
A lovely guesthouse perched high above the southern end of Praia do Rosa with 8 lovely rooms, all of which are different and with different views. There is a pool and deck area with bar and also restaurant, library, games and TV room.
Activities
Surf lessons can be arranged locally. Whale watching (southern Right whales), in season, can also be organised locally.
Accommodation
Room 9 gives the most privacy and is perfect for honeymooners. Room 8 offers less privacy but a fantastic view of the beach (even from the bath!)
Our comments
Charmingly decorated and a lovely option for those looking for some peace and privacy and don't mind the 20-30 minute walk down to the beach.
When to go
Best weather November to April. July to November for whales. January is high season so the beach will be very crowded.
Client comments and reviews
This place is amazing and we are having a fantastic time. - WJ (December 2007)