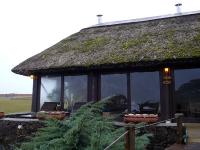 Parador Casa da Montanha
Location
Cambará do Sul (The Serra Geral, Brazil)
Description
Small lodge close to the Itaimbézinho canyon in Aparados da Serra National Park. The main building houses the restaurant with fine views over the river Camarinhas, a friendly sitting area/bar, a small indoor heated pool and showers.
Activities
Activities include fishing in the river, walks, and short rides.
Accommodation
All rooms have canvas rooves and wooden floors connected by walkways. Standard rooms are compact, with a basin and toilet (but no shower) and a double bed. So-called suites are larger with a balcony and bathroom and large window. Tents are lined with insulation and have heating and electric blankets.
Our comments
Glamping at its best.
When to go
Clearest weather is from March to August, quite cold in their winter (but the rooms are well insulated).