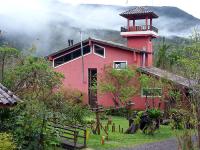 Refugio Pedra Afiada
Location
Malacara canyon (The Serra Geral, Brazil)
Description
At the mouth of the Cânion Malacara near the small town of Praia Grande. Pedra Afiada is a small lodge in a spectacular setting with a lovely fire in the main sitting/dining area in the evening. Breakfast and dinner are included and excursions for the following day are discussed each evening.
Activities
Walking in the Malacara canyon and to a nearby waterfall. Longer trips include nearby canyons such as Itaimbézinho or Fortaleza. There is also a zip wire nearby.
Accommodation
Rooms are either in the main building (which has a viewing platform) or in various cabins in the grounds.
Our comments
Simple but cosy, spectacular setting and ideal for keen walkers.
When to go
March to August for the clearest conditions, but an adventure at any time of year.