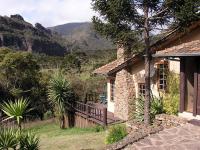 Refugio Rio Canoas
Location
Near Urubici (The Serra Geral, Brazil)
Description
A snug mountain lodge high on the spectacular Serra Geral highlands surrounded by monkey puzzle (araucaria) trees and run by photographer Juan Rivas Beasley and his gaucha wife Giseli. The main building contains two sitting areas with fires on split levels, and a dining area. The food is very good.
Activities
Walking, canoeing (dependent on water levels), abseiling.
Accommodation
Rooms have wonderful views over the monkey puzzle forest and Pedra do Aguia. There are two comfortable rooms with private bathrooms and three further rooms sharing a bathroom (separate male/female rooms, good showers). All rooms have oil heaters. There is also a separate dormitory refuge.
Client comments and reviews
We loved this area and everyone was so friendly. The guide we had spoke only Portuguese but we managed to communicate with one another. - WJ (December 2007)